Greece - ECTAA's Preferred Destination 2022

Greece a Year Round Destination 2022

Greece is a fascinating year-round holiday destination in the Mediterranean. With its loving and hospitable locals, its stunning coastlines, beautiful islands, delicious cuisine and high-quality tourism infrastructure offer memorable holidaying throughout the year. There is always more for the visitor to enjoy!
The Greek summer is an event for all visitors !
#Amazing Destinations
When the first days of the summer weather begins, the Greeks are delighted " That's it! Winter is over and now we will have cold weather back again in November ", of course their faces are brightening and their skin is clearing up Yes, their eyes sparkled and our mood improved, the exact opposite of our seemingly grumpy winter state! when the first day of warm weather set off. Vacation plans will be made about the next place they will visit. The rich atmosphere of the outdoors that you find in the summer in Greece, it is really a wonderful period, therefore it is seen as an ongoing event for almost 5 months!
Anyone considering visiting Greece for a holiday needs to know the side effect of this country because as once you are in Greece, you will want to stay for ever!

The Ionian Islands
The Ionian Islands have a temperate climate, seawaters as deep as they are refreshing, verdant mountains, a rich cultural heritage and a carefree spirit; the ideal combination for your holidays during which you will enjoy a well-developed tourism infrastructure, hotels, restaurants, water sports centres, cultural events and numerous sights, historic monuments, and museums.
Scattered along the mainland's western coastline, the Ionian Islands are a cluster of large and small islands.
1. Corfu (Kerkyra). A continuing reminder of Venetian times
A rich multi-cultural heritage, the historic monuments, the stunning natural landscape, the crystal-clear seas, and the excellent weather all year round explain why Corfu is one of the most cosmopolitan Mediterranean destinations weaving a powerful spell on its visitors. Palaces, fortresses, austere public buildings of the Venetian rule uniquely blend with lines of drying washing in tiny alleyways and small secluded squares. Strolling through a complex of narrow cobbled streets with stairways and vaulted passages, the so-called "kantounia", in the beautifully preserved Old Town of Corfu, a UNESCO world heritage site will make you feel as if you've travelled to Genoa or Naples. Visit one of the most dramatic spots on Corfu's north-west coast Paleokastritsa, a rocky promontory on the top of which is a ruined castle, the Angelokastro. Another fantastic sight in Corfu is the Pontikonisi, a green rock in the middle of the sea, which is the trademark of Corfu. Of course, one of the most enjoyable parts of traveling is tasting the food a region has to offer. One unique flavor that can be found in Corfu is the kumquat. This small citrus fruit is an important part of Corfu's culture and it is the perfect ingredient for a traditional Greek "spoon sweet", marmalade, ice-cream, or even liqueur! Enjoy days in the sun as you wander the fascinating historic town, gaze across the lush green landscape, take in the scent of olive groves and citrus trees, and explore the beautiful pebbly beaches with cerulean waters. If this sounds relaxing Corfu awaits you!

https://www.visitgreece.gr/islands/ionian-islands/corfu/
https://www.corfuin.com/index.html
2. PAXOI (Paxi). Crystal-clear beaches of fairy tale beauty

An ideal island for a peaceful holiday. Beautiful beaches, underwater caves, small bays, and green hills welcome you in the most delightful way. All that you need for a quiet, memorable vacation is on this island! The image of the port wedged in the narrow channel between Paxoi island and Agios Nikolaos isle is considered one of the prettiest in the Ionian Sea. That's why it's so popular place for sailing boats. There are cafés and fish tavernas by the pier. A classical Music Festival take place in the summertime on the island. You can swim in beautiful beaches on the island. You can also sail around the islets close to Paxoi.
3. LEFKAS (Lefkada). The most refined island in the Ionian
The island is surrounded by a total of 24 Islets. Aside from being extremely easy to get to from mainland Greece, via a floating swing bridge, Lefkada has many phenomenal beaches for swimming and lounging with white sands and turquoise waters like Porto Katsiki (meaning Goat's Cove), Egkremni, Milos, Kathisma to name a few. For more adventurous souls there is always the opportunity to visit the beaches on the northern side of the island and try some fun water sports like wind and kite surfing. The wind's strength that reaches its peak in the afternoon has put the beach of Vassiliki, a globally acclaimed surf spot, in the TOP 10 beaches in the world and the TOP 3 in Europe. Windsurfing schools and equipment shops facilitate things for light travellers and those deciding to take part in the thrilling activity on a whim. Lefkada is the starting point from most of the sailing explorations in the Ionian sea. Though many Greek islands offer pristine beaches Lefkada also offers the experience of traditional mountain villages, an uncommon combination. You can stroll amongst beautiful traditional stone houses in Eglouvi, one of the island's oldest villages, or drink tsipouro with the locals. Of course, while anywhere in Greece you need to try the local dishes. Local specialties in Lefkada include "bakaliaro bianco", a cod fish in a white sauce, calamari in ink, and a variety of other fresh seafood dishes that will leave your taste buds tingling!
4. KEFALONIA. An Island with unforgettable images

Magnificent landscape, amazing beaches, a rich cultural heritage, great monuments, mountains, castles, distant monasteries, and the cheerful, hospitable people are the assets that have turned Kefalonia Island into one of the most attractive destinations. Kefalonia is gifted with an exquisite nature and diverse geological formations, countless bays, and lush vegetation. If you want to experience some of the island's original Venetian architecture head over to Fiskardo, a historic harbor village. Aside from being very beautiful, this town is full of life and many scenes from the 2001 film Captain Corelli's Mandolin were filmed here (as well as all over the island). You can also visit some of Kefalonia's many caves. Take a gondola ride on Melissani lake. Melissani is actually a lake within a cave. Since the top of the cave collapsed years ago Melissani lake is now lit up by the sun and sky above. This magical boat ride is one you will likely never forget! Another way to experience magic is by visiting the Drogarati cave. This cave was discovered 300 years ago and only opened for public visitors in the 1960s. Walking through the cave is otherworldly as you look closely at the amazing stalagmite and stalactite formations that exist. Experts say that this cave could be about 150 million years old! The beaches on Kefalonia are stunning as well! In fact, Myrtos Beach has won the award of Best Beach in Greece numerous times, which is really saying something as Greece has an immeasurable number of stunning beaches to choose from!

https://www.visitgreece.gr/islands/ionian-islands/kefalonia/
https://visitkefalonia.eu/
5. ITHACA (Ithaki). Worldwide famous as the epic island of Odysseus
Ithaca symbolises the return to the haven, the discovery, and the fulfilment. Despite its proximity to Kefalonia (Cephalonia) (2km northeast) it is much more peaceful, quiet and undiscovered from it, thus being an ideal place for alternative activities and a holiday living up to the standards of the most demanding ones amongst us. Ithaca boasts plenty of hiking as well as mountain bike trails in a sequence of blue and green alongside the coast and through olive, cypress, pine, oak, arbutus, and carob trees up on the hills. Scuba diving and sea kayaking are some of the options too, while the Cave of the Nymph will give you the chance to combine an exciting visit with a myth: Odysseus had hidden there the gifts he had brought along from the land of the Phaeacians. (Corfu)
https://www.visitgreece.gr/islands/ionian-islands/ithaca/
https://www.ithaca.gr/en/
6. ZAKYNTHOS (Zante). The home of the Loggerhead Turtle
A green island with fertile fields and a temperate climate. The Venetians called the island "Fioro di Levante" (flower of the East) as there are over 7,000 species of flowers on Zakynthos. However, Zakynthos has even more wildlife to offer than just flowers. In fact, the beaches on this island are home to an endangered species of sea turtle, the Caretta-Caretta. If you're lucky you might catch a glimpse of one! What makes it very interesting is the ever-changing countryside that has resulted in different types of beaches. One of the most popular beaches here is called Navagio, which means shipwreck in Greek. Though this beach is only accessible by boat it is worth the trip as it has stunning turquoise waters, white sands, and impressive towering cliffs in the backdrop. If you want to experience even more of the island's stunning rugged terrain, consider visiting the Blue Caves. These caves can be seen through glass bottom boats that allow visitors to experience the absolutely magical colors that occur as a result of the light streaming through the rock formations. If you would rather swim visit the Keri caves. These caves open directly onto the amazing turquoise sea and can be explored with just a mask and a snorkel!
https://www.visitgreece.gr/islands/ionian-islands/zakynthos/
7. KYTHERA (Kythira). The southernmost member of the Ionian Islands
Kythira Island is It's a place endowed with great beauty: valleys that end on the seashore; mountainsides dressed in green, or rocky and barren; spring waters gurgling or cascading down the slopes; wonderful beaches; beautiful, picturesque little villages; local tasty dishes; and an architecture that blends the apparent Venetian influences with the style found in Crete and Mani (south Peloponnese). The above is an outline of what you can expect to experience in this must-visit destination that is picture-perfect Kythira Island. Kythira is located at the entrance of the Laconian Gulf. The island style of architecture is to be found in all villages which were mostly built in a traditional style, such as the Byzantine churches and the Venetian Castle dominating the hill above Chora (main town).
Greece can cater for all tastes within each and every season


During springtime Greece is in full bloom, colourful and ready to welcome the Easter Holidays; on the mainland or on the islands, there are surprises aplenty! This is the time to drink in the views that nature has to offer. Explore trails, lakes, rivers, and gorges in the countryside, learn more about the local flora and fauna and go birdwatching or butterfly watching.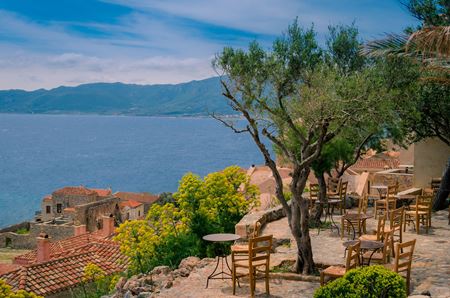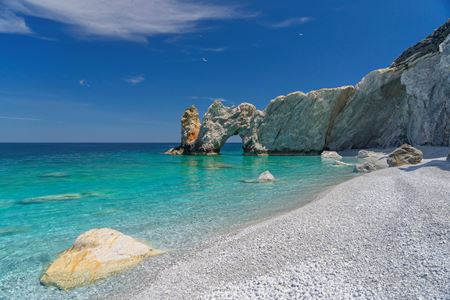 In summer, Greece is at its best! The warm temperatures and the sweet sea breeze make day time beach hunting a pleasurable experience as much as your night time intriguing strolls. Go island hopping or sailing and discover lesser known beaches and coves. If you are a night owl, nightlife in Greece will give you what you need. Savour the local Greek mezedes (tidbits) or opt for haute cuisine, try traditional drinks and enjoy time with friends and family.


For many people Greece's charming season is autumn. The milder temperatures and cooler nights, compared to summer, are just perfect for visiting the archaeological sites and enjoy the best city-breaks in the country. Build your strength and stamina and try mountaineering on mountains where ancient Gods once lived and roamed!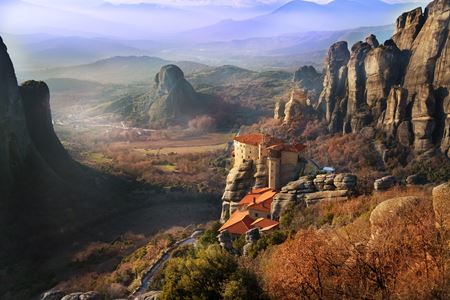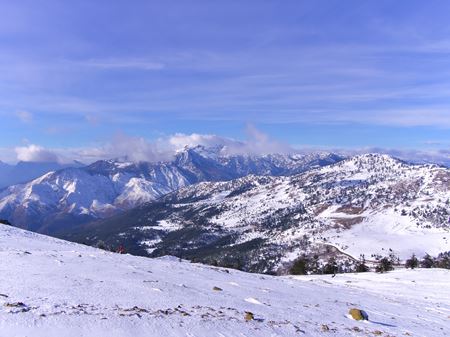 Winter activities in picture-perfect villages, nestled on the rocky mountain slopes award visitors great opportunities for a relaxing and enjoyable winter break. This is the season when nature wears its wintertime colours and the air is fresh and invigorating. Discover the ski resorts and all kinds of winter sports around the mountainous areas of Greece.


F
or pleasure, for holiday, for a long weekend, for business, work or just for a short trip, Greece is the place to be!
Let us inspire you; learn more from our site https://www.visitgreece.gr/
https://www.facebook.com/visitgreecegr

https://www.instagram.com/visitgreecegr/
https://twitter.com/VisitGreecegr
https://www.youtube.com/c/greece

https://gr.pinterest.com/visitgreecegr/_created/

Download Visit Greece app for android https://www.visitgreece.gr/before-travelling-to-greece/visit-greece-app/ and pick your next Greek holiday destination.