Greece - ECTAA's Preferred Destination 2022

Greece a Year Round Destination 2022

Greece is a fascinating year-round holiday destination in the Mediterranean. With its loving and hospitable locals, its stunning coastlines, beautiful islands, delicious cuisine and high-quality tourism infrastructure offer memorable holidaying throughout the year. There is always more for the visitor to enjoy!
Explore Greece in May
#Amazing Destinations
Sunny Skies and Blooming Fields Ahead

As spring begins, Greece sets its fun mood on. It's the season when nature awakens and lets us know that it is time to start fresh once again. What better way to start fresh than by planning a trip to Greece? Nature is generous with its greenish hues and tiny yellow brush strokes as the mountains and fields turn into vivid colours from the winter chestnut hues. Clear blue skies and warm temperatures are here to stay. It is what makes the Greek countryside a tempting destination for anyone who wishes to explore mountain trails, lakes and rivers as well as local customs and cuisine.

Enjoy the best holidays in Greece, because after all, All you Want is Greece!
North Aegean Islands
In the northeastern part of the Aegean Sea, explore islands with fascinating green landscapes, crystal clear waters, beautiful sandy and pebbly beaches, traditional villages, and rich history on each island. Choose among big islands (Ikaria, Samos, Limnos, Lesvos, Chios, Thasos, Samothrace) and some smaller ones (Agios Efstratios, Agios Minas, Antipsara, Thymaina, Oinousses, Samiopoula, Fournoi and Psara) offer you exciting holiday options. Despite the fact that some of these islands are far from mainland Greece, they have grown into popular destinations thanks to frequent ferry and flight connection. https://www.visitgreece.gr/islands/north-aegean-islands/
CHIOS – OINOUSSES -PSARA
1. CHIOS, The land of Senses

Much as Chios is famous for its mastic, it is not the only "magic" one can find on this island. Alongside its rich history starting from the Neolithic Age and including adventures with Saracene pirates and the Turks during the Greek Revolution, Chios also claims to be the birthplace of Homer. Explore the places where people build their day-to-day lives: either in medieval settlements where Genoa and Chios meet, or in beautiful small towns by the sea, and participate in religious festivities where the locals make their own colourful history, such as the explosive Easter Saturday night in Vrontados. Wander around the picturesque countryside of Kampos with the citrus fruits' gardens and the stone-built mansions and visit the well preserved medieval Mastiha villages for a fascinating time travel. Discover the wild beauty of the landscape in the north, taste unique local flavors in a village square, enjoy a mastiha cocktail by the sea, dive in crystal clear waters or hike on a mountain trail to get to know the extraordinary Chios nature.
Mastic: The Queen of Chios Island. Known throughout the world, mastic is an appellation d'origine contrôlée (= controlled designation of origin) product growing only in the South of Chios, where it has been raised since the 8th-7th century A.D. This natural product is cultivated entirely by hand and is nowadays used in medicine, pharmacy, dentistry and cosmetics. Did you know? The technique used to harvest mastic is called kendos (meaning embroidering); this is because in order to collect the mastic drops, the producers make slight incisions on the bark of the tree with a special tool that recalls the art of embroidery. At the central market of the town of Chios, you can buy mastic-based jams and sweets, brandies and, of course, local delicious ouzo!
https://www.visitgreece.gr/islands/north-aegean-islands/chios/
https://chios.gr/en/
2. OINOUSSES, Τhe remote islands of ship owners
With a history of thousands of years and its famous seamanship, Oinousses, the island of shipowners, is known for its noble and serene aura. Is a cluster of nine small islands and islets and a quiet retreat for summer vacationers. A protected area, included in the Natura 2000 Network, full of beautiful small coves for swimming and beaches for those who better commune with nature when they are in its embrace alone. There is an asphalt road along the perimeter of the island, providing easy access to most beaches. One can even walk along the road on foot, as its total length is a mere 18km. However, the true secret of the Oinousses is their desert islands. Whether you decide to sail around them on one of the islands' caiques or paddle to each one in a canoe and spend a night on one of their beaches – as an increasing number of tourists do during summer – you will discover an idyllic natural wealth, virgin fishing grounds and enchanting depths that make up the panorama of the unexplored Aegean Sea.
https://www.visitgreece.gr/islands/north-aegean-islands/oinousses/
https://chios.gr/en/ta-nisia/oinousses
3. PSARA, The island of glorious past & pristine beauty
Travel guides describe the island as "a dot in the sea, far away from established tourism destinations" – but that is only half true. A paradise for those seeking natural beauty and absolute tranquility, but also for the foodies, due to the delicious local cuisine, based on the pure products of the island. The visitor can enjoy the peace and tranquility of the place. A typical aegean scenery, where traditional blue and white houses blend harmoniously with the beautiful beaches and the crystal clear sea.
https://www.visitgreece.gr/islands/north-aegean-islands/psara/
https://chios.gr/en/ta-nisia/psara
4. SAMOS, A multi-faceted island
Samos is an island ruled by legend and beauty. It is the island of the father of mathematics, Pythagoras, the astronomer Aristarchus and the philosopher Epicurus. It is the home of Hera and the land that hosted Herodotus and Aesop. The ruins of The Temple of Hera, considered by Herodotus as "the greatest and most impressive temple in Greece of his time" have been preserved until today. Alongside with the "Tunnel of Eupalinos", masterpiece of 6th century engineering is included in UNESCO's World Heritage Monuments. Samos is a place of overwhelming vegetation, known worldwide for producing the fat, luscious wine, the award-winning Samos Muscat. Whether in the imposing mountains, such as Mt. Kerkis and Mt. Ambelos – with alpine winter temperatures and endless rain – or in caves and canyons, the environment of Samos reminds one of the Greek hinterland in miniature. The terrain of Samos is a challenge to those who choose to ride mountain bikes on their travels. Each summer, an increasing number of cyclists, fully equipped for their adventures, visit the island's trails. Local cyclists meet at the architecturally innovative chapel of Agios Ioannis, birdwatchers set up near the Alyki habitat or Glyfada Lake to photograph herons, Dalmatian pelicans and pink flamingos. When the heat covers the island like a blanket, those in the know start their journey to Karlovassi waterfalls early in the day. Above all else, Samos is a modern island, with immaculately organized beaches. But Samos is also cosmopolitan if you stay at Vathy, Kokkari or Pythagoreion.It is a place of late-night revels, as well as a place of peace, ideal for rest, relaxation and contemplation.
https://www.visitgreece.gr/islands/north-aegean-islands/samos/
http://visit.samos.gr
5. FOURNOI, An archipelago away from the crowds
There is only one way to travel back in time and experience old Greece up close: take a ship and get off at Fournoi! An ideal base for pirates in the Middle Ages, due to the hundreds of small fjords and hidden beaches where their ships could be concealed, Fournoi were once called "Corseoi Islands", after corsairs, i.e. pirates. Fournoi is a formation of small islands and islets, of which only two are inhabited: Fournoi and Thymaina (1400 inhabitants). They are islands of fishermen and bee-keepers. The islands have rich biodiversity and have been included in the "NATURA 2000" network, due to their interesting flora and fauna. Chora is the capital of Fournoi, a genuine and traditional village with picturesque narrow streets and whitewashed houses. Campos, the island's main village, offers tavernas, patisseries, shops selling traditional products, a soft drink bottling workshop. The main occupation of the locals, however, is not related to the land, but to the sea. The island has a large fishing fleet – disproportionate to its size – and has developed into one of the most important fishing centres in the Aegean. For this reason it is heaven for those who love fish in their diet, with unique opportunities to enjoy top quality fish, such as the Common Dentex, the Pink Dentex, the Common Pandora, the Dogtooth Grouper, as well as sea food and lobsters.
https://www.visitgreece.gr/islands/north-aegean-islands/fournoi/
http://visit.samos.gr/index.php/en/fournoi-en/anout-fournoi/fournoi/item/1351
6. IKARIA, The island of longevity
Besides the island's sandy beaches, running waters, mountains and green hillsides its name, Ikaria, is intertwined with Greek mythology and Ikarus. According to the myth, Ikarus lost his life when he flew over the island's sea, because he came too close to the sun and his wings made out of wax melted. The thermal springs on the island are renowned for their chemical composition. The unparalleled local lifestyle, along with the one of a kind work-rest schedule, the famous festivals and traditional dances, the local customs, are just some of the reasons why you should explore this impressive destination. Enjoy its beautiful gorges. Swim in the crystal clear waters. Savour fresh fish and sip fragrant wine, while you let yourselves become an Ikarian, as they are connoisseurs of the secrets for longevity!
https://www.visitgreece.gr/islands/north-aegean-islands/ikaria/
http://visit.samos.gr/index.php/en/ikaria-en/about-ikaria/ikaria
LESVOS - LIMNOS – AGIOS EFSTRATIOS
7. LESVOS, The island of harmony
Beautiful Lesvos with many streams, rich flora and fauna, famous olives groves, the mild Mediterranean climate, charming traditional villages and remarkable examples of industrial architecture (olive presses, soap factories, tanneries) dating from the Island's industrial development in the 19th century, impress all visitors. It is the homeland of the famous ancient poets Sappho and Alkaios. Lesvos, is also known for the unique petrified forest covering the Sigri-Eressos-Antissa area. It has been designated as a preserved natural monument since 1985. It is a forest ecosystem that has been fossilized 15-20 million years ago due to the intense volcanic activity in the area which included coniferous forests and mainly huge sequoias and primitive pine trees. It is one of the rarest natural monuments in the world (the only similar ecosystems today are the coniferous forests in north America), visited by thousands of tourists.
https://www.visitgreece.gr/islands/north-aegean-islands/lesvos/
http://visit.lesvos.gr/index.php/discover-islands-2/limnos-island/?lang=en
8. LIMNOS, The island of mythical beauty

Serenely floating in the north of the Aegean Sea, Limnos (also spelt Lemnos) is a destination for a peaceful holiday in close contact with nature. Sheltered gulfs, extensive beaches and landscapes of volcanic rocks, alternate with small hills and traditional villages of stone houses. The volcanic island of Hephaestus, god of fire, lends its fertility to fruitful plains, which the locals make the best of by producing goods of unique taste and excellent quality. Among them, the renowned Muscat of Limnos, a Designation of Origin of Superior Quality sweet white wine with golden colour, rich aroma and full taste, and the cheese "kalathaki" (=little basket) a kind of white cheese that is left to dry and mature in small straw baskets, as well as its delicious yellowish version called "melíchloro" (meaning soft cheese of honey colour). The tasteful thyme honey and the fresh fish are also some of the great gifts of nature to the lucky island. Capital of the island is Mýrina, a town beautiful for its traditional paved alleys, its old stone mansions, its promenade by the sea, and last but not least for its Byzantine Castle. The impressive castle that overlooks the town lies on a rocky and steep peninsula, on the hillside of which small deer roam free.
https://www.visitgreece.gr/islands/north-aegean-islands/limnos/
http://visit.lesvos.gr/index.php/discover-islands-2/limnos-island/?lang=en

9. AGIOS EFSTRATIOS, The small island of calmness and relaxation

The island is found at the North-Northwest of Limnos and belongs to the Natura 2000 network. This small island in the edge of the Aegean is ideal for those who love fishing and the visitors who seek the absolute calmness. All it takes is a few days for one to discover the thirst for communication, the kindness and the courtesy of the locals. They will speak to you of the volcanic grey beach with its warm waters just a short distance from their homes. From the beautiful harbour, next to the caiques and fishing boats, you can set off in their own vessels on a tour of the island and beaches not accessible by land, such as Agios Dimitrios Trygari, Trypiti, Ftelio, Gournias, Lydario. They will take you to Alonitsi, the retreat-beach with its islets a stone's throw away. It is here, in the sea caves of Ai Stratis, that the Mediterranean seal, Monachus monachus, finds an ideal haven. The steep cliffs are home to predatory birds and seabirds. The sea meadows of the Mediterranean seas (the locals call them phykiades) sprawl out on the sea bed and offer a valuable habitat for a vast number of sea creatures as well as a wall of protection against erosion to the island.
https://www.visitgreece.gr/islands/north-aegean-islands/agios-efstratios/
http://visit.lesvos.gr/index.php/discover-islands-2/agios-efstratios-island/?lang=en



Greece can cater for all tastes within each and every season


During springtime Greece is in full bloom, colourful and ready to welcome the Easter Holidays; on the mainland or on the islands, there are surprises aplenty! This is the time to drink in the views that nature has to offer. Explore trails, lakes, rivers, and gorges in the countryside, learn more about the local flora and fauna and go birdwatching or butterfly watching.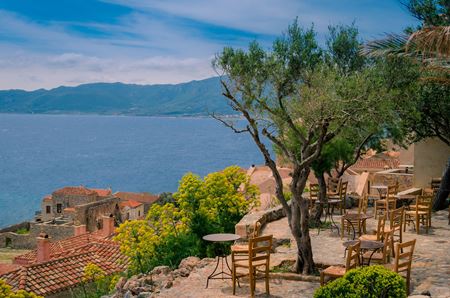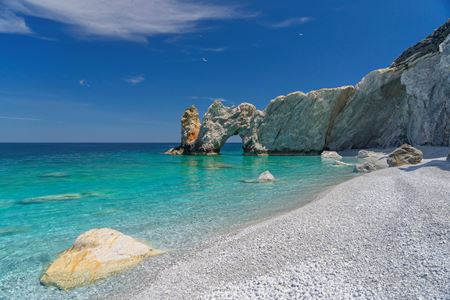 In summer, Greece is at its best! The warm temperatures and the sweet sea breeze make day time beach hunting a pleasurable experience as much as your night time intriguing strolls. Go island hopping or sailing and discover lesser known beaches and coves. If you are a night owl, nightlife in Greece will give you what you need. Savour the local Greek mezedes (tidbits) or opt for haute cuisine, try traditional drinks and enjoy time with friends and family.


For many people Greece's charming season is autumn. The milder temperatures and cooler nights, compared to summer, are just perfect for visiting the archaeological sites and enjoy the best city-breaks in the country. Build your strength and stamina and try mountaineering on mountains where ancient Gods once lived and roamed!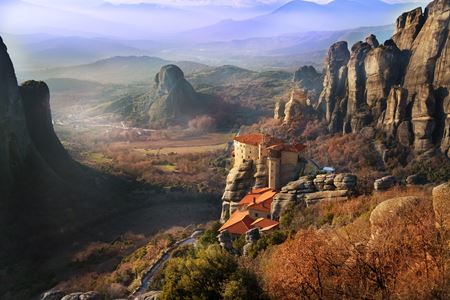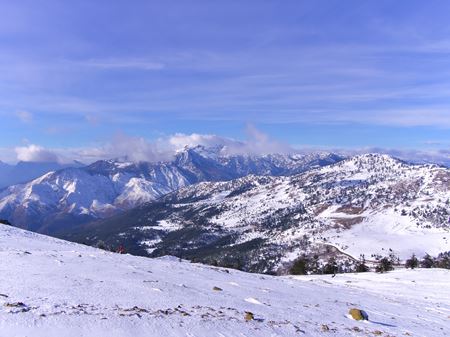 Winter activities in picture-perfect villages, nestled on the rocky mountain slopes award visitors great opportunities for a relaxing and enjoyable winter break. This is the season when nature wears its wintertime colours and the air is fresh and invigorating. Discover the ski resorts and all kinds of winter sports around the mountainous areas of Greece.


F
or pleasure, for holiday, for a long weekend, for business, work or just for a short trip, Greece is the place to be!
Let us inspire you; learn more from our site https://www.visitgreece.gr/
https://www.facebook.com/visitgreecegr

https://www.instagram.com/visitgreecegr/
https://twitter.com/VisitGreecegr
https://www.youtube.com/c/greece

https://gr.pinterest.com/visitgreecegr/_created/

Download Visit Greece app for android https://www.visitgreece.gr/before-travelling-to-greece/visit-greece-app/ and pick your next Greek holiday destination.