Greece - ECTAA's Preferred Destination 2022

Greece a Year Round Destination 2022

Greece is a fascinating year-round holiday destination in the Mediterranean. With its loving and hospitable locals, its stunning coastlines, beautiful islands, delicious cuisine and high-quality tourism infrastructure offer memorable holidaying throughout the year. There is always more for the visitor to enjoy!
Discover the winter in Greece
#Amazing Destinations
The Greek sun continues to shine even in the winter. In Greece you can see its light "warming" landscapes, people, and souls, even on the coldest days. Sunny days, characterized by the brightness and transparency of the landscapes, offer you unique moments.
The mainland of Greece includes significant differences between the coast and the mountainous part. The Greek islands are known for their clear skies, frigid winters, and drab summers. In the winter, you can expect temperatures ranging from 17 to 21 degrees Celsius

The biggest island of Greece is a charming place where visitors can enjoy their trip in the way they have imagined it. It is not without reason that it is one of the most popular holiday destinations as offers virtually limitless options. Culture, traditional villages, gastronomy, seaside tourist resorts, beaches, amazing nature, activities are some of the reasons why Cree is worth visiting.
1. The Minoan civilization await you !
The best way to learn about Heraklion, the vibrant capital of Crete, with its fascinating history, delicious cuisine, and friendly residents year-round, is to take a walking tour. Start your visit at the old Venetian port. In the modern part of the city, you can go shopping or have a nice meal. Heraklion is a paradise for history lovers. The Heraklion Archaeological Museum, one of the most significant museums in Greece, must be added to your to see list; it showcases unique treasures of the Minoan civilization unearthed from Knossos, Phaistos, Malia and other sites. The many bull statues in the museum refer to the myth of the Minotaur. The palace in the nearby town of Knossos is less than twenty minutes' drive from the city of Heraklion and is well worth a visit as it is associated with the exciting myths of "the Labyrinth and the Minotaur" and "Daedalus and Icarus". Last but not least, the food market of Heraklion, is where you will find all sorts of products which you can just as well take back home with you as a souvenir!
2. The ultimate paradise for foodies
Crete will teach you everything you need to know about the Cretan diet, which is famous for its unique recipes. You will taste pine and thyme honey, aromatic herbs tea, extra virgin olive oil, a variety of cheese and traditional deli meat products, cheese, and herbs pies, and of course the taste of raki and traditional marriage sweets. Go on an exciting journey of gastronomic imagination to Chania, one of the most desirable Cretan destinations! A bougatsa with cream, a delicious, whipped cream cake sprinkled with icing sugar based on an old Asia Minor recipe, is the sweetest way to start your day! Continue your culinary quest with a visit to the "temple of gastronomy", the municipal market of Chania. Wander here, in a deep mystical atmosphere, through various food shops and taste the divine gifts of Cretan nature!.
https://www.incrediblecrete.gr/en/local-products/
3. Take a wine tour on Crete
On Crete you will even find the oldest vineyards in Europe! Discover the Cretan wine routes and give your eyes, nose and taste buds a living! The fertile ground and the delightful Greek sun are ideal for growing wine grapes. So, it is not surprising that this divine drink has been part of daily life on Crete for more than 4000 years. Especially in the northern part of the island, near the cities of Chania and Heraklion, you can visit various wineries. During such a wine route you pass picturesque vineyards, taste local wines with accompanying delicacies and you can discover the traditional villages with their museums and historical remains. A must for anyone who likes a glass of wine and wants to be seduced by new taste sensations. On Crete, a lot of different kind of grape varieties are grown, but two red grape varieties still stand out. The exclusive Liatiko grape is one of them. It is harvested in July and can be processed into both sweet and dry wine. Liatiko grapes give the drink a floral, spicy smell and a pronounced sweet taste. Delicious! In addition, you will find Romeiko grapes here. Romeiko is an indigenous grape found on many Cycladic islands and Crete, prominently in the region of Chania and in particular Kissamos where it flourishes. The grapes of Romeiko which are dried in the sun after harvesting for an even richer aroma. Many Greek wines are perfect as an aperitif due to their sweet taste. You can also combine them with fruit, desserts, or spicy Cretan cheese. Cheers!
http://www.visitgreece.gr/en/gastronomy/greek_wines/wines_of_crete
4. Learn the fantastic bike routes of Rethymno
Bike within the White Mountains and Mt. Psiloreitis, and learn about its beautiful beaches, legendary caves, historic monasteries, and traditional villages. A network of paths connects traditional villages with beautiful architecture throughout the Rethymno region, including Maroulas, Chromonastiri, Pikris, Mountros, Amnatos, Argyroupoli, Spili, Margarites, Anogeia, and many more. There are routes that climb high on Mt. Psiloreitis or descend steep gorges like Kourtaliotiko and Kotsyfou to reach isolated beaches in the south. Other routes lead to monasteries like Arkadi and Vosakos, as well as plains dotted with Byzantine country chapels like the Amari plain. Follow picture-perfect paths through dense olive groves, reach viewpoints with breath taking views, put your strength to the test with difficult climbs, relax in picturesque cafes - there's one in every village. There are routes that are suggested for beginners. There are routes for beginners as well as routes for more experienced cyclists. Choose from narrow country paved or gravel roads.
https://www.visitgreece.gr/experiences/activities/land-activities/rethymno-by-bike/
5. Discover Spinalonga
The tiny, teardrop-shaped island of Spinalonga, just off the southern coast of Crete's Lassithi region, wasn't always on the tourist map. Nowadays is the most popular archaeological site in Crete after Knossos. It's a Venetian fortress, but what makes Spinalonga unique are the ruined houses and buildings of the settlement that was from 1903-1957 Greece's official leper colony. What you see from the coast are the remains of a 16th-century. The walls appear as impenetrable now as they once were to countless invaders. Tourists began to discover Spinalonga when boats started making the short crossing there in the 1980s and it went on to gain international recognition as the setting for Victoria Hislop's best-selling novel, The Island, in 2005, which went on to become a popular local TV Serie. The island's perimeter as you arrive in Spinalonga, you'll immediately be taken aback by the size of the medieval fortification, built to protect the strategically important Bay of Mirabella.
https://www.visitgreece.gr/inspirations/explore_the_east_part_of_crete/
Greece can cater for all tastes within each and every season
During springtime Greece is in full bloom, colourful and ready to welcome the Easter Holidays; on the mainland or on the islands, there are surprises aplenty! This is the time to drink in the views that nature has to offer. Explore trails, lakes, rivers, and gorges in the countryside, learn more about the local flora and fauna and go birdwatching or butterfly watching.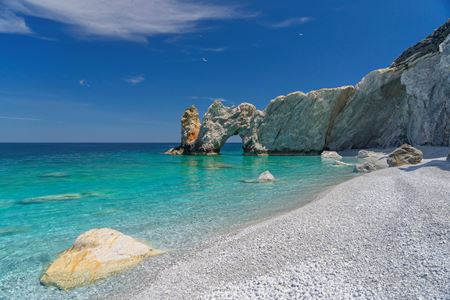 In summer, Greece is at its best! The warm temperatures and the sweet sea breeze make day time beach hunting a pleasurable experience as much as your night time intriguing strolls. Go island hopping or sailing and discover lesser known beaches and coves. If you are a night owl, nightlife in Greece will give you what you need. Savour the local Greek mezedes (tidbits) or opt for haute cuisine, try traditional drinks and enjoy time with friends and family.


For many people Greece's charming season is autumn. The milder temperatures and cooler nights, compared to summer, are just perfect for visiting the archaeological sites and enjoy the best city-breaks in the country. Build your strength and stamina and try mountaineering on mountains where ancient Gods once lived and roamed!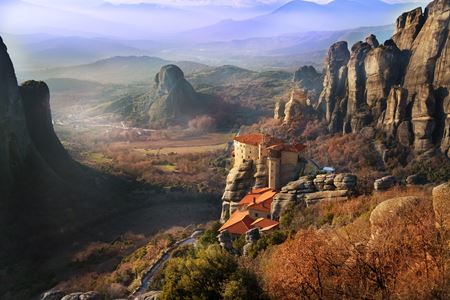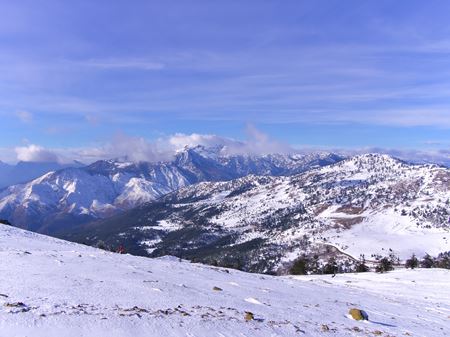 Winter activities in picture-perfect villages, nestled on the rocky mountain slopes award visitors great opportunities for a relaxing and enjoyable winter break. This is the season when nature wears its wintertime colours and the air is fresh and invigorating. Discover the ski resorts and all kinds of winter sports around the mountainous areas of Greece.


F
or pleasure, for holiday, for a long weekend, for business, work or just for a short trip, Greece is the place to be!
Let us inspire you; learn more from our site https://www.visitgreece.gr/
https://www.facebook.com/visitgreecegr

https://www.instagram.com/visitgreecegr/
https://twitter.com/VisitGreecegr
https://www.youtube.com/c/greece

https://gr.pinterest.com/visitgreecegr/_created/

Download Visit Greece app for android https://www.visitgreece.gr/before-travelling-to-greece/visit-greece-app/ and pick your next Greek holiday destination.